Why not celebrate halloween with these delicious honey caramel apples using DrBeekeeper Honey?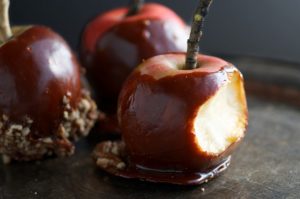 Prep Time: 15 minutes
Cook Time: 25 minutes
Serves 6
Ingredients
6 medium apples
1 cup DrBeekeeper honey
¾ cup double cream
2 tablespoons unsalted butter
¼ teaspoon sea salt
½ cup crushed DrBeekeeper honey roasted pecans
ice cubes
6 sticks
Method
Whisk honey, cream, butter and salt in a saucepan over medium heat until it bubbles, then immediately reduce heat to simmer.
Continue whisking the caramel to prevent burning and spillage. Continue cooking the caramel until the temperature reaches 125 C (about 25 minutes). The caramel should thicken and turn a rich brown colour and the bubbles should be small and should uniformly cover the surface of the pan.
Make an ice bath by placing ice cubes in a bowl. Then transfer the hot caramel into a mixing bowl and place the bowl in the ice bath. Stir the caramel until it is cooled and starts to thicken.
Insert a wooden stick into the core of your apples dip carefully into the caramel until fully coated. Roll the dipped apples into the chopped pecans and place onto a piece of parchment paper.  Allow to cool completely before serving.
We'd love to hear from you with your favourite honey themed recipes – please send them here!